It is estimated that 68-80% of Americans are deficient in magnesium (ref 1-3) . Why is this a problem? Aside from the fact that when one nutrient is off in your body, it creates a cascading effect by blocking the absorption of other nutrients among other health issues.
In this post:
Important roles of magnesium (Mg)
Dietary requirements of Mg
Signs of Mg deficiency
Supplementing Mg
How much is too much Mg
Risks of taking Mg
Magnesium plays very important vital functions such as:
Regulating the absorption of calcium
Involved in the structural integrity of your bones
Involved in the function of over 300 enzymes
Regulates muscle contraction
Regulates nerve impulses
Reduces inflammation
Helps the heart to pump more effectively
Helps to regulate blood pressure
Relaxes smooth muscle

This is useful for conditions such as:

hypertension
dysmenorrhea
constipation
asthma
angina
stroke
Dietary Requirements
Dietary requirements will vary with age and certain conditions but the RDA for females is 280 mg/ day and males 350 mg/ day. If you are pregnant or lactating, your requirements are greater set around 350 mg/ day. Optimal intake is around 600-800 mg/ day.
Signs of Magnesium Deficiency
Unfortunately, signs of a magnesium deficiency can look like other disorders of the body. But, symptoms include:        (ref 4-8)
Irritability
Weakness
Fatigue
Dysmenorrhea
Muscle spasms and tightness
Cardiomyopathy
Anorexia
Sugar cravings
Hypertension
Anxiety
Poor nail growth
Severe deficiencies are rare but people most likely to be severely deficient are those that:
Abuse alcohol
Have kidney disease
Have Crohn's disease
Have parathyroid issues
Older adults
Supplementing Magnesium
There are many ways to supplement magnesium. My favorite is to soak it up through my skin. At least 1x per week,   I will fill up the bath with hot water and pour in 1-2 cups of Epsom salts and soak for 10-20 minutes. This is especially needed during my contest prep for figure competitions as my body is sore and tired from all the lifting and cardio.
You can also soak your feet in a basin of warm water with a 1/2 cup  is epsom salt as well.
Epsom salts are magnesium sulfates and as stated above, the Mg is absorbed through your skin. I buy a big tub of it from Sam's club.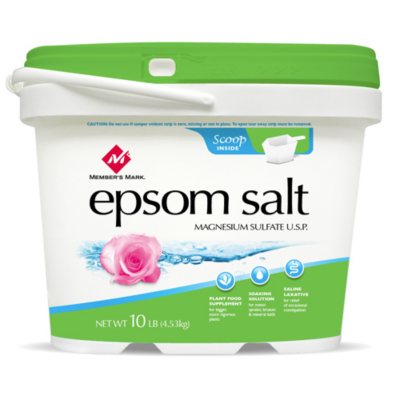 Epsom salts have a plethora of uses from health to beauty to household! (see more here)
Dietary Sources of Magnesium
My husband takes a supplement before he goes to bed to help calm his anxiety and help him sleep. He currently takes Solaray BioCitratre Magnesium before bed. (list of benefits and uses here)

He had been drinking a magnesium supplement before bed such as Mg Natural Calm
but he didn't' quite enjoy that.
Other ways to get in your magnesium are through your diet! Whole grains, nuts, fruits and veggies such as
spinach and other leafy veggies
beans
peas
soy flour
buckwheat flour
tofu
figs
cashews
avocados
millet
brewers yeasts
Our family avoids soy products and grains (sometimes we eat rice) but we eat a whole lot of nuts and avocados! (Why we avoid soy, why we avoid grains)
 How Much is Too Much Magnesium (Mg)?
General dosing is usually around 600-800 mg. Toxicity if fairly low but a great way to know that you might have over done the Mg is loose bowels. If you put in too much epsom salt in that bath, or took too high if a Mg dose, you will be a poopin. Not like diarrhea (well, depending) but, loose. That lets you know to back off, not stop but decrease the dosing until bowel movements are normal.
Once maintenance dose is established, calcium should be taken with your Mg in a 2:1 ratio.
On a side note from WebMD:
What are the risks of taking magnesium?
Side effects. Magnesium supplements can cause nausea, cramps, and diarrhea. Magnesium supplements often cause softening of stool.
Interactions. Magnesium supplements may not be safe for people who take diuretics, heart medicines, or antibiotics. Check with your health care provider if you are taking any medicine before taking magnesium.
Risks. People with diabetes, intestinal disease, heart disease or kidney disease should not take magnesium before speaking with their health care provider.
Overdose. Signs of a magnesium overdose can include nausea, diarrhea, low blood pressure, muscle weakness, and fatigue. At very high doses, magnesium can befatal.
References:
1. King DE, Mainous AG, et al. Dietary magnesium and C-reactive protein levels. J Amer Col Nutrition 2005;24:166-171.
2. Subar AF, Krebs-Smith SM. Dietary sources of nutrients among US adults, 1989 to 1991. J Amer Dietetic Assoc1998;98:537-547.
3. Ford ES, Mokdad AH. Dietary magnesium intake in a national sample of U.S. adults. J Nutr 2003;133: 2879-2882.
4. Rassmussen HH, Mortensen PB, Jensen IW. Depression and magnesium deficiency. Int J Psychiatry Med 1989;19: 57-63.
5. Morris ME. Brain and CSF magnesium concentrations during magnesium deficit in animals and humans:  neurological symptoms. Magnes Res 1992;5:303-13.
6. Iseri LT, Freed J, Bures AR. Magnesium deficiency and cardiac disorders. Am J Med 1975;58:837-46.
7. Al-Ghamdi SM, Cameron EC, Sutton RA. Magnesium deficiency: pathophysiologic and clinical overview. Am J Kidney Dis1994;24:737-52.
8. Rude RK. Magnesium deficiency and diabetes mellitus: Causes and effects. Postgrad Med 1992; 92: 222-4.
Featured pic from: http://www.triquetrahealth.com/skin-health-spiruzan/4582135182